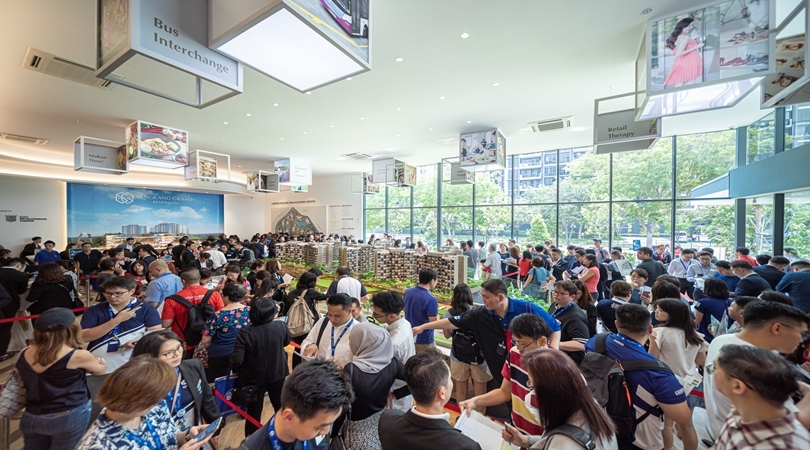 The digital booking platform not only helps to reduce hundreds of thousands of sheets of paper, but it also helps to trim the average booking transaction time by half.
Since August 2018, more than 1,000 units and US$1 billion (S$1.36 billion) worth of new houses were booked via digital booking platform, Showsuites.
Via the platform, transactions are done paperless, and a buyer's particulars can be recorded digitally prior to the expression of interest stage. This has helped to trim the average booking transaction time to one-and-a-half hours compared to three to five hours via the conventional method, reported The Business Times.
At Sengkang Grand Residences' recent sales launch, 216 units were booked in two days with property agents carrying out the transactions using Showsuites' iPad application.
The 99-year leasehold project is a joint project of CapitaLand and City Developments Limited (CDL).
"With Showsuite's platform, we are able to enhance our homebuyers' experience by reducing the average transaction time. At the same time, the initiative supports our sustainability and resource conservation commitment by reducing paper usage," said CDL group general manager Chia Ngiang Hong.
Aside from reducing the average transaction time, Showsuite's technology – which is used by developers like CEL Development, Roxy-Pacific and MCL Land as well – also allows developers to manage their inventory and track progress payments.
Some notable residential projects that have harnassed Showsuites platform include Parc Komo, Margaret Ville, and Whistler Grand.
Showsuite also has an online portal for new housing units that taps virtual reality and 3D technology.
Showsuite chief executive office Karamjit Singh revealed that the company is looking to solve "several more key problems connected to new home sales to help developers, agents and home buyers".
First on the list is a secure digital payment solution for the first 5% booking fee.
"We will be rolling out a QR code solution very soon, working with the major banks, which would help home buyers who prefer the convenience of making digital payments," said Singh.
"The next step would be to introduce a digital option to purchase (OTP), the document that developers would need to sign to formally award a unit to the buyer."
Home buyers looking for Singapore Properties may like to visit our Listings, Project Reviews and Guides.
Victor Kang, Digital Content Specialist at PropertyGuru, edited this story. To contact him about this or other stories, email victorkang@propertyguru.com.sg
Latest posts by The Colab Team (see all)
This post was originally posted on Property Guru Property Market News Section
http://colab.sg/wp-content/uploads/2019/11/1_Sengkang-Grand-Residences-Strong-Response-on-Launch-Weekend.original-1.jpg
450
810
The Colab Team
http://colab.sg/wp-content/uploads/2017/11/colab_logo_4website-1-e1511155990560.png
The Colab Team
2019-11-18 10:53:14
2019-11-18 11:13:18
Digital platform, Showsuites, allows for faster booking of homes